New York City, the Big Apple, or the City That Never Sleeps is one of the most beautiful cities around the globe. Regardless of your personal likes or dislikes, New York City has something for everyone. Millions of people visit this beautiful city each year, and you should definitely do the same. Scroll down to see ten amazing reasons you should see New York, and plan your trip accordingly.
The architecture
New York City is famous for many reasons, but its amazing architecture is on top of the list. This marvellous city has stunning buildings that never cease to amaze us. What we love about NYC is the fact it perfectly combines old and new. You'll see neighbourhoods with old buildings and parts with modern architecture. This combination is unmatched anywhere else.
Only in NYC, you can see buildings that were built over 200 years ago and modern skyscraper just down the block. The architecture of the Big Apple impresses millions of people, especially architectural design enthusiasts. Of course, the Empire State Building and the Flatiron building are some great examples.
Amazing food
Everyone loves visiting places with good food, and NYC checks this box easily. New York City has over 24,000 food establishments. Whether you're a foodie who loves trying out different things, a vegan, fast-food lover, or prefer ethnic cuisine, you'll find the perfect spot in New York. Visiting someplace is more than just looking around landscapes and buildings; it also revolves around nurturing other senses, and that's where food steps in.
Vibrant neighborhoods
When NYC comes to mind, most people think of Manhattan only, but this city is more than that. An important reason for places to visit in New York is the variety of neighborhoods, each with a different vibe, architecture, and things to see. You can see Bronx, Greenpoint, Williamsburg, Red Hook, Staten Island, and many other places for an authentic experience.
Broadway
Broadway is the most well-known theater in the world and a must-see place in New York City, especially if you're into plays and performances. The Lion King, Mamma Mia, the Wicked, and many other plays are definitely worth seeing. Broadway offers an elaborate experience that other theaters simply can't match. When it comes to Broadway, it's important to clarify it is not a single theater building, but 41 professional theaters each with at least 500 seats located in Theater District and Lincoln Center.
Accessibility
New York City is one of the most popular travel destinations for both Americans and international travelers alike. Yet another important reason to visit New York is easy accessibility. Regardless of where you live, reaching New York is easy as most airlines worldwide have flights to this city. International travel should make sure they have proper documentation first. If you are from Visa Waiver Program countries, you will need to apply for ESTA by filling out an online application that takes about 25 minutes. You will be asked to provide basic biographic information from your passport, info about a current and previous employer, address and point of contact in the US, and payment information. If you're wondering "where to check my ESTA application," then you'll be pleased to know it's easy – on the usaestaonline.com, you can learn the status of the application.
Statue of Liberty
It would be impossible to visit New York City and not see the Statue of Liberty, a symbol of hope, freedom, tolerance, and acceptance. The Statute of Liberty, also known by its full name Liberty Enlightening the World, was a gift from the people of France to the people of the US. It represents Libertas, a Roman goddess of freedom. Lady Liberty is a gorgeous sight and such an important thing to see in New York, especially today, when we need to learn to be more tolerant and accepting of others.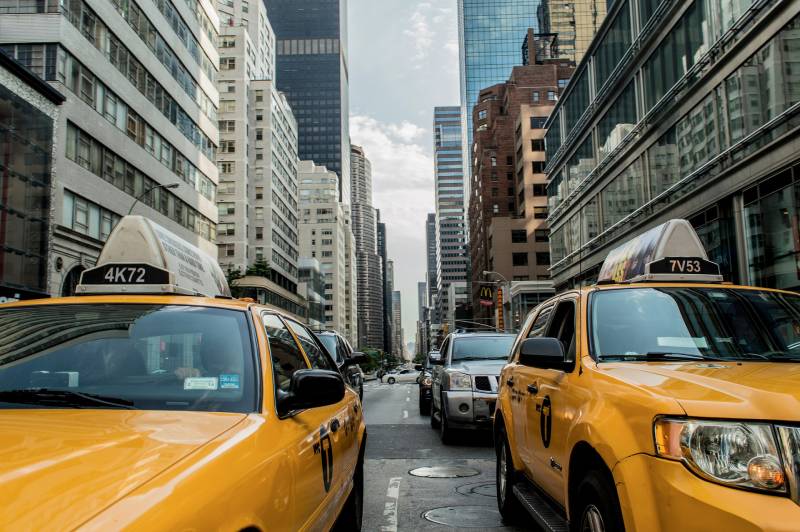 Times Square
We have all seen Times Square in the movies, but it's even better when you're there yourself. Times Square is a major tourist destination, commercial intersection, and entertainment center that attracts people from different parts of the world. Times Square is bright, loud, busy, but totally worth it.
Culture
New York City is the place where different cultures are mixed, coexist together, and create a beautiful atmosphere you can't find elsewhere. A combination of different cultures makes NYC vibrant and shows why it's the city where most people dream of calling their home.
Beautiful views
Wherever you go in New York, you will see beautiful views worth capturing on your phone or camera. Whether you're a fan of nature or concrete jungle chances are high, you'll find the perfect spot to enjoy. Central Park is an ideal place to rest and relax for a while. There are also colorful neighborhoods, picturesque bridges, and beautiful streets that you can gaze on.
People
A generally accepted idea is that New Yorkers are always in a hurry and can be harsh. But if you talk to them, you'll realize they are great people who will gladly show you directions and explain how to find something. If you're into meeting people from different cultures, then New York should be your go-to place.
Conclusion
New York City is one of the most popular cities in the world, and most people don't really need to be persuaded to go there. Regardless of your likes and dislikes, New York City can meet and exceed your expectations. Get ready with your travel bag pack to visit the New York City.