In recent times there have been amendments to laws that prescribe that swimming pools must be protected by at least a fence to avoid any inadvertent mishaps.
Keeping this law in concern and embedding more privacy in and around a swimming pool, people are taking a leap towards a pool enclosure.
The concept of pool enclosures can be new to many new pool owners who are in a pursuit to enhance the security of their pool property.
Here are some essential features and benefits that are practical and add functional value to your pool.
What Are Pool Enclosure?
A pool enclosure is a structure typically crafted from transparent panels that covers your pool, giving your pool protection from a nuanced form of natural challenge. It keeps dirt, debris, or even unwanted creatures at bay and keeps the sanctity of a pool in ideal condition.
At first glance, it may look akin to conventional sunrooms.
A designer can take your inputs in crafting a pool enclosure according to your choice. There is freedom to use various design elements such as glass or other materials to engineer a truly unique enclosure.
Here are some benefits that you will appreciate:
Say Goodbye To Sunshine
Solar protection screens are an essential addition to pool enclosures. Sun rays can be beautiful and relentless. With normal screen panels, a pool ecosystem can be sweltering but with Coversinplay enclosures you can enjoy without worrying about heat or harmful UV rays.
The solar screen offers a comfortable temperature by blocking 90% of the sun's heat.
On a bright sunny day, sunrays reflecting in your pool can be blinding. Solar panels with unique coated vinyl polyester can shield up to 70% of the sun's glare. This means you don't have to glare with a squint eye.
Moreover, it protects your wooden furniture and essential fabric from harmful sun rays.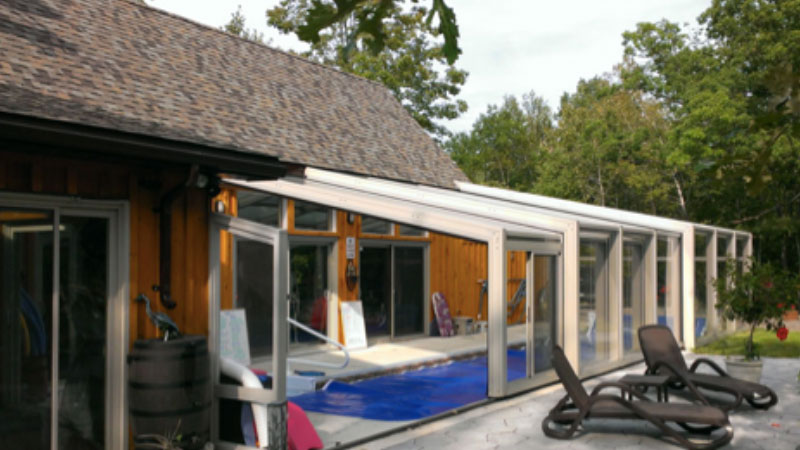 No Leafy Business Around Pool Enclosure
The onset of the autumn season can conjure the images of romance and love in the air as the avenues can be seen with gorgeous falling leaves all over. But leaves falling in and around your pool can also be a peskiest business to negotiate.
A pool filled with soggy, brown and dead leaves can be worrisome. Resolve that before it becomes your headache by adding a pool enclosure.
Turn your worries into luxury with pool enclosure and behold the leaves falling on the other side of the glass while you swim around your pool.
Relief From Those Prying Eyes
Are you aspiring for a private space to relax and exercise without worrying about who is trying to pry in your personal matters? When privacy is of paramount importance, swimming pool enclosures adds privacy element to your property.
Maintains Optimum Water Temperature
During summer when soaring temperatures are setting everything on fire. Diving into the pool is supposed to be soothing and a great way to counter-act and cool off. But direct exposure of a swimming pool to sunlight can result in warm water and it can ruin your swimming leisure time.
With a pool enclosure with screened panels, your pool's water stays cooler and dust free. After installation happens, you can enjoy your morning and evening swim in the refreshing water.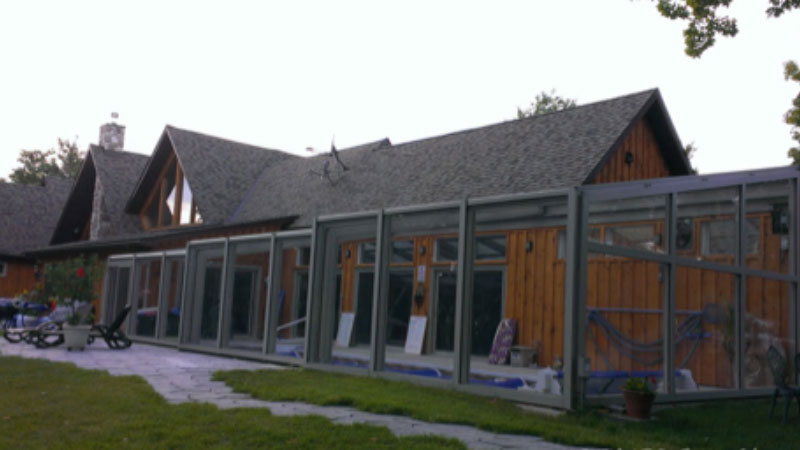 Design Your Pool Enclosure
You can envision and create your pool enclosure according to your ideas. With a diverse range of styles, materials, and options, you can add both style and functionality to your pool.
From indoor, outdoor retractable pool enclosure to patio and telescopic pool enclosures, you have a myriad of choices to create a bespoke swimming pool.
Minimum Chemical Requirements
A swimming pool enclosure is helpful in reducing the evaporation rate to a great extent. Plus it inhibits algae growth by screening photosynthesis process as it shields sunrays to effectively penetrate into the pool.
Consequently, you will be needing fewer chemicals to maintain the hygiene of your pool. Technically you will be spending less time and less money on pool maintenance.
Augments The Value Of Your Property
Your home is an investment of a lifetime. It is always prudent to contemplate about how any substantial change that you want to add into your house can impact on its value!
Embedding a pool enclosure will certainly shoot the value of your home as it will be an element of luxury and style with comfort.
It can transform your pool into a showplace with added security and protection that every pool owner needs!
Final Thoughts
Coversinplay manufactures and designs the blueprint of pool enclosures ensuring everything is crafted on envisioned parameters.
Our highly trained engineers are at your disposal to meet your needs. Call us today on 905-589-3000 to schedule a meeting with our experts.