Introduction
During your wedding, you want everything to be perfect. This is why you need to prepare for it for at least a year before the grand day. Of course, the first thing you'll be attending to is what dress and shoes you'll be wearing in the most important occasion of your life. Then you'll be arranging the venue, reception, photography services, the entourage's dresses, and so much more.
While all of these are important, make sure that you do not neglect your nails. They may be hidden most of the time, but they will still add to your overall look and will boost your confidence. Plus, they will clearly stand out in wedding photos, especially the closeup ones. To help you decide with your nails, here are awesome wedding nail designs that will surely complement your entire outfit
1. The Marbled Manicure
The marble effect is a stunning way of painting your nails no matter what the occasion is. The great thing about this is with practice, you can do it all by yourself without needing an artist. Simply go through your nail polish bottles and find two colors that you want to incorporate.
For example, apply a neutral base coat on your nails. While they're still wet, use cream polish and make tiny lines in different patterns. After, apply the second coating of your base coat to blend the colors together.
2. Stunning Studded Nails
What better way to complement your diamond ring than shimmering studded nails? If you really want to shine on your wedding day, then you should go with this mani. It's elegant, simple, yet the design screams for perfection!
3. Go Modern With Pink
For many, the color pink is the classic color for women that fits any occasion. This could be a wedding, anniversary, company party, or even a birthday party. However, you can go modern with it by adding some glitters or nail decals. Make sure to choose designs that will fit well to your dress. Also, don't go overboard with the designs and make sure that the color pink still pops out.
4. The Bedazzled Manicure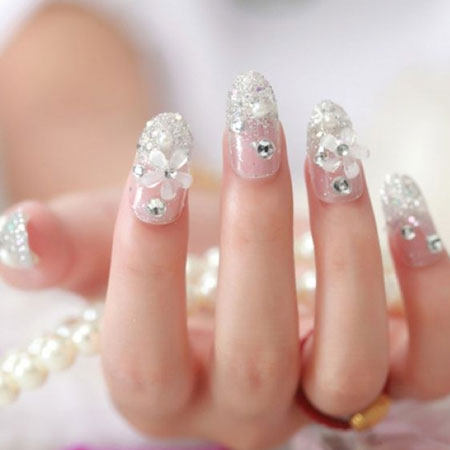 If you love to go a bit further when it comes to styling, then this is the perfect manicure for you. Having clear tips, gold details, and pearl stones – all combined to make the perfect nails. This will fit whatever gown you'll be wearing. Be it a simple dress that needs more personality or a very detailed dress that requires you to pair it with something neutral.
5. Shine With Sparkles
If it's your wedding day, then it's only proper that you shine from head to toe. Of course, this will include your nails! If you don't want it to be too glittery, you can use white nail polish instead. With your fine-tip brush, add some of your designs to your nude-covered nails. You can go with stars, hearts, or even both!
6. Stylish French Tips
This nail design is perfect if you're opting for the minimalist design of french tips but want to keep it more stylish look. Apply clear a coat to your nails for your base. Make sure to let them dry first before you apply the second coating. Once you're done, simply apply a top-quality white polish over your nails to achieve that modern and trendy look.
7. Gorgeous Gold Cuffs
Having neutral colors for your nails are usually enough to make them attractive. But it's your wedding day, so it's always better to go a little extra. By adding thin gold cuffs at the bottom, your nails will be as classy and beautiful as your gown.
8. Go Bright With White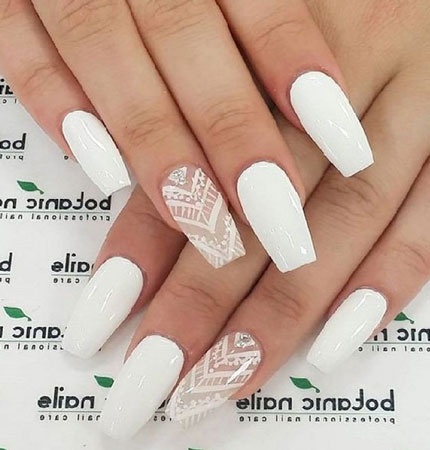 You might be thinking right now that you might appear dull pairing your white dress with super white nails. This could be true only if you don't add some of your characters into your nails. After applying a pure white shade, showcase your personality by adding some nail decals, like hearts and stars, to your nails. You can also ask a nail technician for some freehand nail art for unique designs that will surely turn heads!
9. Abstract White Design
Having white nails on your wedding day should not mean they are boring and dull. You can make them more interesting by incorporating modern designs to them. To be more creative, you can create abstract designs.
Apply a solid coat of white nail polish to your nails. While they're still wet, trace squiggles all throughout your nails by using an orange stick. Allow your nails to dry completely and in just a few minutes, you already have unique and trendy nails.
10. Elegant Ballerina Nails
The "ballerina nails" are a simple yet elegant look perfect for weddings. If you want to keep things simple and want to follow a minimalistic design, then choose this for your nails. While they are not as noticeable in person, they will surely make your wedding closeup photos more beautiful. Apply a neutral base coat then make thin lines on the edges, line french tips to complete the look.
11. A Dash of Gold
If you find your neutral nail polish needing more character, why not add a gold accent to it? You don't need to go to a nail artist or technician to achieve this look. You can simply apply your gold glitter nail polish and design your nails according to your preference.
12. Glittery Dipped Nails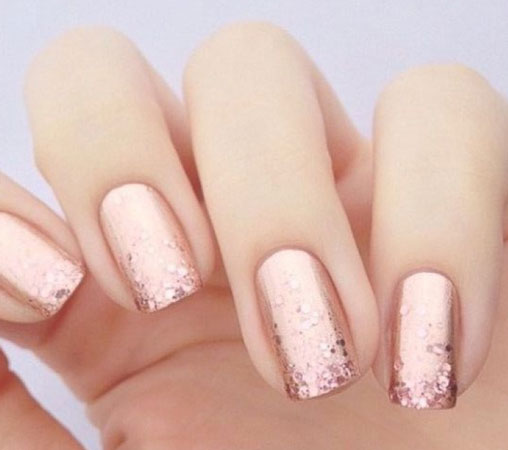 While you want to shine on your wedding day, you don't want to go overboard by painting your entire nails with glitter. Glitter is an attractive addition to your nails. To keep it balanced while keeping it stylish, only paint the tips of your nails that have neutral colors.